Wistful Wild is the final area that can be accessed in Pikmin 2; it is made available once the Hocotate Freight company's debt has been fully repaid. It is one of the most dangerous areas, containing enemies like a Gatling Groink and Orange Bulborbs. It contains five treasures above the surface which total 3205 Pokos, and three caverns for a total value of 13295 Pokos (13285 in the PAL version of the game). The design of this area is a combination of The Impact Site and The Final Trial from Pikmin. It is also a representation of autumn. Contents of the region include two large lakes, one of which can be drained and the other bridged; a clearing with three randomly-colored Burgeoning Spiderworts; and rusted metal structures, tree stumps and Foxtails. As with all areas, different variations of music play while breaking down a gate, building a bridge, or approaching an enemy.
Treasures
Caves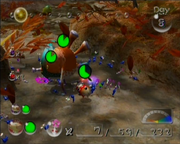 Enemies
Plants
Trivia
A video showing possible ways to explore areas:

02:13

Pikmin 2 - Wistful Wild Glitch
Gallery
Wistful Wild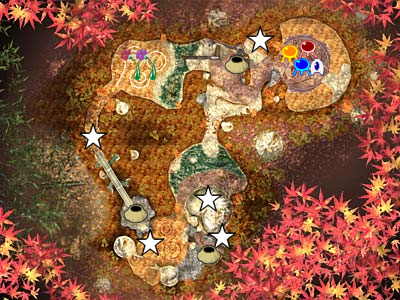 Click on a location

This article was a featured article from 18th June 2009 to 18th August 2009.

Ad blocker interference detected!
Wikia is a free-to-use site that makes money from advertising. We have a modified experience for viewers using ad blockers

Wikia is not accessible if you've made further modifications. Remove the custom ad blocker rule(s) and the page will load as expected.