Welcome
Hello, PikminMaster771, and welcome to Pikipedia, a Wiki with information regarding Pikmin. The administration thanks you for registering, and has provided some useful links to help familiarize yourself with rules, regulations and other such facilities. We hope you like the place and decide to stay.
Pikipedia pages:
Wikipedia pages:
Please leave a message on my talk page if I can help with anything. -- Thenewguy34 (Talk) 20:09, June 12, 2012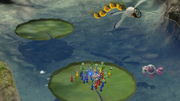 Where did you get the Image on the right!? It's amazing quality, and in none of the videos I've seen! It'd be great if you could tell me XD
Image seems to check out. Kudos to you for finding it, it's a great picture! --MegaSchmoo
05:37, June 21, 2012 (UTC)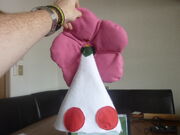 Here is one photo, but you have an email I can seed it there.
Misapprehension
I think you are under a misapprehension. Category:Pikmin and Category:Pikmin 1 are not the same, just to clarify. Sorry for any trouble. --Thenewguy34(Other) 23:40, June 26, 2012 (UTC)

I left a picture but the Newguy34 removed it becuse it was home... *sigh* I don;t think that was very nice. please respond soon.
come to the chat box.
My E-Mail is japanferret@gmail.com please contact me when your ready.
pikmin hat
I am not allowed to sell, homemade pikmin hats, but i do have real pikmin figures if you would like instead.
Hi, PikminMaster771
I'm also a big enthusiast of the Pikmin series! Like you, (and probably everyone else) I can't wait 'till Pikmin 3! I'm super excited.
Dunno if you have updated your least day counts on your Pikmin runs, but I just wanted to let you know that I have beaten Pikmin 1 on day 9, and Pikmin 2 on day 10. Soonest for Pikmin 1 is 6, and 8 on Pikmin 2, though.
Do you have a Skype? It would be totally radical if we could get to know eachother!
Ymmot392 (talk) 05:17, September 1, 2012 (UTC)
For some reason, when you editted the President section on the Leader page, it got rid of all HTML of that section, so I reverted it back to it's original state frome before you editted it. Just letting you know.
Ymmot392 (talk) 04:33, December 14, 2012 (UTC)
Bug Pikmin Wouldnt Make Much Sense Since Pikmin Are Already Based Of ants aswell as blanks to technically every pikmin is a bug pikmin but i think it would still be pink pikmin,