Today I broke the game. Again.
This is the process of how I broke the koppad camera overhead view:
1. Select Mission Mode.
2. Select Plasm Wraith Battle.
3. Skip introduction with +
4. Immediately use the Koppad.
5. Place finger on the left top corner. 
6. Slide to center.
7. Repeat 5 and 6 until camera spasms.
8. You now have an unrestricted camera.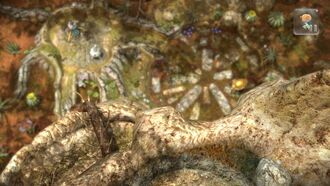 Observe, tilt shift is still in effect if the area is viewed from the top of the oak.
This also works in the Meerslug battle in Mission Mode, but you must instead place your finger on the bottom center and swipe it to the top center.
Ad blocker interference detected!
Wikia is a free-to-use site that makes money from advertising. We have a modified experience for viewers using ad blockers

Wikia is not accessible if you've made further modifications. Remove the custom ad blocker rule(s) and the page will load as expected.