Unknown Enemy 4
Talk

5
937pages on
this wiki
---
The title of this article is conjectural. Although this article is based on canonical information, the actual name of this subject is pure conjecture. If an official name is discovered, please change the article's name to the appropriate title.
---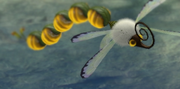 UE4, is an enemy from Pikmin 3 first seen at the Nintendo E3. It is a vaguely dragonfly-like enemy with six spherical body segments. It's first segment is white and fuzzy, with two pairs of black and purple-tipped dragonfly wings, and another small pair underneath. It's head resembles that of a butterfly, with yellow eyes, and an upward-curling proboscis. It's other five segments are grooved and yellow, with a green leaf pattern along its back, and two green, curled antennae on its rear end. It is seen flying over the leader, some Pikmin, and UE5 in the Pikmin 3 E3 Trailer. It is unknown if or how this creature will attack Pikmin. [1]
References
This article is a stub. You can help the Pikmin Wiki by expanding it.