Unknown Enemy 3
Talk

3
937pages on
this wiki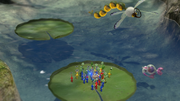 ----
The title of this article is conjectural. Although this article is based on canonical information, the actual name of this subject is pure conjecture. If an official name is discovered, please change the article's name to the appropriate title.
---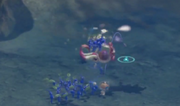 UE3 is an enemy creature featured in Pikmin 3, which was first seen at Nintendo's E3. It appears to be a small, transparent squid-like enemy that swims in water using 2 large calipers. When threatened, it released an inky, noxious substance, which surrounds the pikmin, causing them to panic, like the effects of poison in Pikmin 2. It is unlikely that this substance is poison, as White Pikmin are the only defense against it, but they are unable to confront this aquatic enemy. This may signify the return of bulbmin, because of their immunity to poison and water, thus making it possible to fight it without the risk of it poisoning your blue pikmin. It is possible however, that the substance is simply ink, becoming a new hazard with no known pikmin species immune.
It has only been seen for a brief moment in the Pikmin 3 trailer[1], so currently no other data is present on it.
References
This article is a stub. You can help the Pikmin Wiki by expanding it.