Skitter Leaf
Talk

0
938pages on
this wiki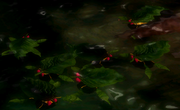 The Skitter Leaf is an enemy in Pikmin 2 and Pikmin 3 that resembles a leaf. These creatures remain camouflaged on the ground until approached by Captains, at which time they attempt to flee with a cricket-like chirp. They are somewhat rare, usually located in very fresh places, such as near or in water or foliage, but not worth defeating, and returning to the Onion/pod. This is because the leaf they leave upon death, while only requiring one Pikmin to carry, yields one Pikmin seed/Poko.
There are rare occasions where one will duck right when it loses all its health, thus dying right when a captain approaches it.
Skitter Leaves will appear in
Pikmin 3
in a similar manner to previous games. As well,
Unknown Enemy 7
, which appears in the game, looks similar to the Skitter Leaf, except larger and of a brown colour, and seems to have the ability to eat Pikmin. It is currently unknown whether it is related to the Skitter Leaf.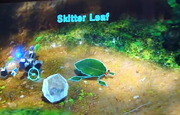 Olimar's Notes
"The skitter leaf is a relative of the pond skater that shed its wings and adapted to life on the ground. With no residual traits of its airborne past, the skitter leaf can neither fly nor skit across the surface of the water. The wings have since evolved into the leaflike structure on its back, which serves to hide the skitter leaf through mimicry. It appears quite effective, as few predators can see through this clever disguise."
Louie's Notes
Killing Strategy
Edit
Swarm it with Pikmin, or toss one directly onto its back; Purple Pikmin work especially well for the latter method similar to Shearwigs and Sheargrubs. It has low vitality and can also be easily defeated by captains. Captains can be harmed by it, and it will shake any attacking Pikmin off when given the chance, which usually knocks off their flowers or buds. This enemy cannot be petrified when it hides on the ground, only when its is up and active.