This article is a stub. You can help the Pikmin Wiki by expanding it.

To improve the quality of this article or section, it is suggested that someone on the wiki find and upload an image for this specific article.
Shaded Garden Remix

Collect the Treasure

Time Limit
8:00
Treasures
31
Pokos

(w/o time bonus)

x2400
World Record
11910
Co-Op World Record
11520
Yellow Pikmin
30
Blue Pikmin
23
Winged Pikmin
33
Shaded Garden Remix is the 10th Stage in Pikmin 3's Mission Mode: Collect Treasure! mode. It is, as the name states, a remix of the previous Shaded Garden. It was released in a DLC pack on October 1, 2013, for $1.99 USD. The max number of Pokos obtainable without time bonuses on this map is 2400.
Pikmin (86)
Flora (2)
Treasure (31)
Enemies (7)
Obstacles (4)
Dirt Wall (x1)
Reinforced Wall (x1)
Bamboo Gate (x1)
Dirt Mound (x1)
Gallery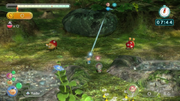 Ad blocker interference detected!
Wikia is a free-to-use site that makes money from advertising. We have a modified experience for viewers using ad blockers

Wikia is not accessible if you've made further modifications. Remove the custom ad blocker rule(s) and the page will load as expected.