Winged Pikmin
Talk

2
936pages on
this wiki
Winged Pikmin
Resistant To
Unknown
Attack Strength
Normal
Mobility
Constantly in flight.
Throw Strength
Presumably high
Carrying Capacity
1
Winged Pikmin 
are a species of Pikmin featured in
Pikmin 3
. They are a vivid pink color with two slightly darker pink rings around their lower torso. They also sport very large heads, small arms and legs, two very large, blue compound eyes, and small transparent wings. Upon maturing, they sport the lavender
Sutera Cordata
.  As their name implies, they have the ability to fly. They are constantly in flight, and can easily attack airborne creatures in large groups, such as the 
Swooping Snitchbug
. Their most useful ability is that they can carry items above the ground and over hazards. They were first shown at E3 2012 as an easter egg in the trailer, and were officially revealed on April 17, 2013. This type of Pikmin sports its own
Onion
.

Abilities
Winged Pikmin are capable of flight, and are always flying in the air. They can carry items above the ground and also appear to be able to automatically dodge falling objects. Winged Pikmin are small and fast, allowing them to keep up with the captains at a steady pace. Due to their constant airborne status, they can follow captains even if they're walking in an area inaccessable to most Pikmin types, such as a small pond or other body of water. It is currently unknown if there will be any way to cause Winged Pikmin to become grounded temporarily. 
Due to their constant flying, they must be called by holding the whistle button for slightly longer than normal, which will summon a cylindrical beam of light that will call the Winged Pikmin.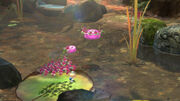 Trivia
In the early days following Pikmin 3's formal introduction, speculation was thrown around as to what the pink Pikmin were, or if they were even Pikmin. It took 9 whole months before they were finally revealed to be Winged Pikmin in Nintendo's April edition of Nintendo Direct.
In the happy ending to the first Pikmin game, you can see fourteen multicolored onions flying above the planet's atmosphere. Five of these onions were pink.
The Winged Pikmin appear to be the second Pikmin type, the first being White Pikmin, that have compound eyes.
The Winged Pikmin are the first Pikmin type since the first appearance of the Blue Pikmin to have an Onion.
References
Gallery
This article is a stub. You can help the Pikmin Wiki by expanding it.