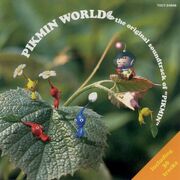 Pikmin Worlds is the soundtrack for the first Pikmin game. It was released only in Japan in May 2002. It consists of 36 songs, which can be found here. 
Soundtrack
1. Pikmin
2. Carry, Fight, Increase and be Eaten
3. Level Select
4. Prologue
5. View
6. The Impact Site
7. The Forest of Hope
9. The Distant Spring
10. The Final Trial
11. Impending Doom
12. Final Boss Battle
13. Challenge Mode
14. Results
15. New Record
16. Discovery of Onion
17. Meet the Pikmin
18. Finding of Parts
19. Finding Lost Pieces
20. Spaceship Part Obtained
21. Power-Up!
22. Level Complete
23. Night Comes
24. My Mistake
25. Today's Results
26. End of Day
27. Escape & Fail
28. Live as a Pikmin
29. Chapter Complete
30. Escape, go to Planet Hocotate
31. Chapter Complete
32. People Who Helped
33. Creature Montage
34. Song of Love Version 1
35. Song of Love Version 2
36. Song of Love French Version
Ad blocker interference detected!
Wikia is a free-to-use site that makes money from advertising. We have a modified experience for viewers using ad blockers

Wikia is not accessible if you've made further modifications. Remove the custom ad blocker rule(s) and the page will load as expected.