Welcome to the Pikmin Wiki!
The wiki about the Pikmin series
that anyone can edit! This wiki currently has 711 articles and is still growing! Don't be afraid to hop in and edit! But please read our Policies page first!
Featured Article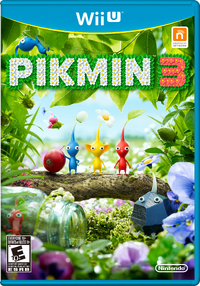 Pikmin 3 is the upcoming third installment in the Pikmin franchise. It will be released on the Nintendo Wii U console on July 13th for Japan, August 4th for America, and July 26th in Europe. It is the first original entry in the Pikmin franchise in 9 years, since the original release of Pikmin 2 on the Gamecube in 2004. Before I crash-landed on this planet... Year 20XX on the astrometric calendar. In the end of the space, (planet Koppai) is facing a serious food crisis caused by explosive population growth and the unplanned temperament of inhabitants. To find a planet with food, I launched an unmanned space probe and discovered a promising planet (PNF-404). I and two other experts were sent in to investigate deeper, but we had an accident, and made an emergency landing in (PNF-404)....
Charlie is in a silver world... Charlie awoke in a snow-filled landscape. He started looking for Alph and Brittany, but found something else...
Alph wakes up in the water... I met a mysterious creature. After recovering the communication terminal (GPAD), I continued searching the planet alone...
Where's Brittany...!? Brittany calls for Alph's help through his communication terminal (GPAD). She seems to be in some remote area...
Will the captains reunite, and what's the fate of planet Koppai?
Read the full article here.
Featured Image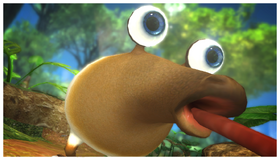 An photo of a Whiptongue Bulborb, taken using the KopPad, and uploaded to Miiverse.

Create blog post
I've heard a lot of opinions going around about what most people were disappointed about with pikmin 3.

Honestly, I thought there wasn't enough content.

I beat the game (albeit with barely any fruit) i…

Read more >
See more >