The wiki about the Pikmin series that anyone can edit! This wiki currently has 937 articles and is still growing! Do not be afraid to hop in and edit! But please read our Policies page first!
Featured Article
2-Player Mode was introduced to the Pikmin series in Pikmin 2. It involves, as the name implies, two players, who control Captain Olimar and Louie, in control of up to 50 of each Red Pikmin and Blue Pikmin respectively. Each player can start the match with a multiple of 5 Pikmin between 5 and 50, and cannot exceed 50 total Pikmin on the battlefield at any time. 2-Player Mode takes place in underground areas, their layouts randomly generated. Each player has an appropriate Onion, near which a similarly-colored marble lies at the start of the game. There are four ways to win (see below) and ten differently-themed areas to play on, ranging in difficulty. Returning a cherry to your Onion will allow you a spin of the roulette wheel. To make things even, Red Pikmin have lost their extra strength. (more...)
Featured Image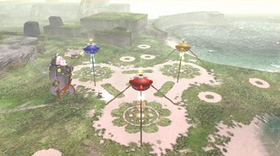 The landing site in the Distant Spring, the largest area in Pikmin.
Poll
Are you looking forward to Pikmin 3?