Pikmin Adventure, the Pikmin themed attraction in Nintendo Land has a variety of plants exclusive to it. They typically do not affect gameplay in any way, they just serve as decorations. They can be unlocked as collectible figures in the Nintendo Land Plaza, however.
Abundant Mass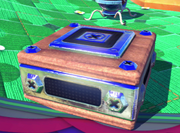 Monita's Notes
"This distinctive work of modern art conveys a sense of weight and permanence. Also, these are scattered all over the place underground, so please don't stub your toe."
Angular Sapling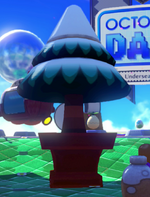 Monita's Notes
"This fir tree is classified as an evergreen, long a symbol of vitality and eternal life. This one seems to be covered in snow, though. So much for the "ever green." Hah. Hah."'
Bulbous Sporehaven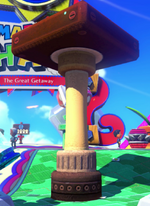 Monita's Notes
"Perplexing, isn't it? Nobody knows if it's vegetable or...something more sinister."
Carved Pikmin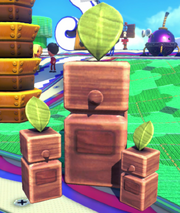 Monita's Notes
"These curious scultptures almost seem to move by dim underground light. Some people even mistake them for Pikmin. Not me, of course."
Fronded Stump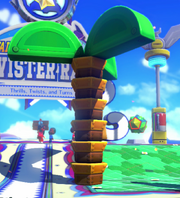 Monita's Notes
"Palm trees always evoke such a blissfully tropical mood... Well, at least that's what my databank says, anyway. This one doesn't have any fruit, so that's disappointing."
Fungiform Family
Monita's Notes
"Just look at this bouquet pf brightly colored toadstools. The big one must be the mother, while the little ones are the juveniles. Also, that could be completely incorrect."
Glacial Fungicap
Monita's Notes
"This may look like a crystal, but it's actually a very rare and delicate mushroom, which melts away in all but the coldest storage conditions. It is unexpectedly soft to the touch, almost like jelly."
Herbaceous Kettle
Monita's Notes
"I planted this seed in a metal enclosure instead of an ordinary pot. Why, may or may not ask? Because I find it highly amusing, of course."
Hyperborean Verdant Silo
Monita's Notes
"This neat little plant is in a snowman pot for the wintertime. It won't bloom, so I gave it a nose instead."
Sinuated Flora
Monita's Notes
"Can you identify this plant? No? It's a fern, of course. Oh, mass information storage does have it's moments."
Spiral Timber
Monita's Notes
"Tempting as it may be to find out what's up there, please refrain from climbing on this display. Park rules are very clear on this issue."
Striped Conifer
Monita's Notes
"Once upon a time, a fair maiden awaited her sweetheart's return from battle. She pined and pined, and then kept pining... Oh, it's a spruce. Never mind."
Vegetal Pouch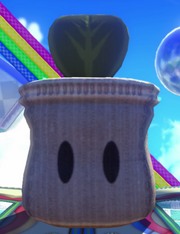 Monita's Notes
"The humble cloth sack keeps it warm and chilly fall nights. It looks at bit sad and squishy, doesn't it? I still wouldn't want it falling on my monitor, though."
Verdant Silo
Monita's Notes
"This lovely plant is full of spring vitality! My scans confirm that the dots on the pot are eyes... No, really."
Verging Bloom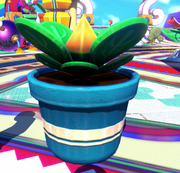 Monita's Notes
"This plant is brimming with potential. Apparently, the blue pot perfectly complements the flower, but we won't know until it blooms."
Ad blocker interference detected!
Wikia is a free-to-use site that makes money from advertising. We have a modified experience for viewers using ad blockers

Wikia is not accessible if you've made further modifications. Remove the custom ad blocker rule(s) and the page will load as expected.