Paper Bag
Talk

21
700pages on
this wiki
---
The title of this article is conjectural. Although this article is based on canonical information, the actual name of this subject is pure conjecture. If an official name is discovered, please change the article's name to the appropriate title.
---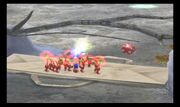 Paper Bags are rare obstacles debuting in Pikmin 2 that need to be compressed to open up the areas past them, similar to the Cardboard box. This is achieved by throwing Pikmin on top of the bag so that it is weighed down by a certain amount. Purple Pikmin, of course, weigh ten, and Pikmin of other colors weigh one. The first paper bag is found on the first day of Pikmin 2, where Captain Olimar and Louie must to flatten one to reunite. Once a Paper Bag is decompressed, it will stay flattened forever and become part of the scenery.
Locations
Paper bag requiring 15 Pikmin in Valley of Repose. It is necessary to collect all pellets and add Olimar's Pikmin from the region to deflate it.
Paper bag requiring 35 Pikmin in Valley of Repose. All pellets and the Dwarf Red Bulborb are necessary to grow enough Pikmin.