Olimin
Talk

24
700pages on
this wiki
---
The title of this article is conjectural. Although this article is based on canonical information, the actual name of this subject is pure conjecture. If an official name is discovered, please change the article's name to the appropriate title.
---
Olimin
or
Pikmar
is the term used to describe
Captain Olimar
as a
Pikmin
in the bad ending of
Pikmin
, where the
S.S. Dolphin
fails to take off and crashes on the planet again; Olimar is then carried to the Red
Onion
(presumably near dead due to the crash) by a red, a blue, and 2 yellow pikmin and ejected as a seed. The Pikmin then form a line behind "Olimin" and start to cheer. His sprout is black, and his body cannot be seen. It is unknown how he will be plucked.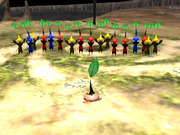 Trivia
When Pikmin carry Olimar to their Onion when you press down on the D-pad (or the "2" button in the New Play Control! version) is held in Pikmin, or by use of the Napsack in Pikmin 2, Olimar is not affected in any way, presumably because he is still conscious and able to struggle free.
When Pikmin carry dead enemies to the Onion, it makes a normal Pikmin, not a hybrid between the two species. It is possible that Olimar is not dead, only unconscious, thus creating the hybrid.