Ad blocker interference detected!
Wikia is a free-to-use site that makes money from advertising. We have a modified experience for viewers using ad blockers

Wikia is not accessible if you've made further modifications. Remove the custom ad blocker rule(s) and the page will load as expected.
The New Play Control! (Wii de Asobu in Japan and previously called Let's Play On Wii) range of video games is a collection of GameCube titles ported to the Nintendo Wii, with their controls altered for play on the newer console. During a Nintendo press conference in October 2008, the games were announced, along with the details that the range includes the two Pikmin games:[1]
Oddly, North America never recieved the New Play Control! version of Pikmin 2. Instead, they recieved a delayed Nintendo Selects version in 2012. There is no difference between the 2 versions, however. 
Controls for Pikmin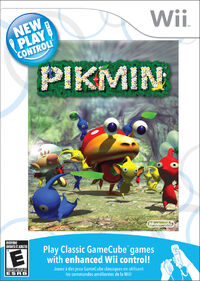 A Button- Throw Pikmin
B Button- Whistle
C Button- Disband Pikmin
Down Arrow- Direct Pikmin
Side Arrows- Zoom
Up Arrow- Camera Angle
Analog Stick- Move Olimar
A button + Down Arrow- Select Pikmin Stage
A button + B button- Select Pikmin Type
Z Button- Move camera behind Olimar
Plus (+) Button- Pause/Map
Controls for Pikmin 2
A Button- Throw Pikmin
B Button- Whistle
C Button- Disband Pikmin
Down Arrow- Direct Pikmin
Side Arrows- Zoom
Up Arrow- Camera Angle
Analog Stick- Move Captain
A button + Down Arrow-Select Pikmin Stage
A button + B button- Select Pikmin Type
Z Button- Move camera behind Captain
Plus (+) Button- Pause/Map
Minus (-) Button- Switch Captain
1 Button- Uses Ultra-bitter Spray
2 Button- Uses Ultra-spicy Spray
References