Iridescent Flint Beetle
Talk

10
937pages on
this wiki
The Iridescent Flint Beetle is an enemy in all Pikmin games. To attack one, throw a Pikmin on top of it, at which it glows red while overturning and drops a useful object; Pikmin attacking from on the ground cannot harm it. This creature disappears after a certain amount of time has passed or it has been overturned enough times.
In Pikmin, these bugs look rather larger than in the second game and have a slightly different coloration. They are more common, and are somewhat helpful. They are mostly found in foliage or in corners. When hit, they first drop a 1-pellet, then, when hit again, they drop two doses of nectar. Upon the next direct hit more doses of nectar are released, and then a 5-pellet. This cycle repeats once more, ending after the second 5 -and swift movement. It also poses an indirect threat to Pikmin, as it will often run through Olimar's army. This results in the Pikmin automatically attacking and chasing it unless called back, which can lead them into danger.
In Pikmin, Olimar questions why the Pikmin chase after it.
In the Challenge Mode at The Impact Site, an Iridescent Flint Beetle may push a red 20 pellet out of the fire so Pikmin that are not red may carry it.
"This creature's hypnotic reflective body is quite hard, giving it a good defense against Pikmin attacks. Why, then, do the Pikmin chase it in such a frenzy? I wonder if it will undergo any change if I hit it directly with Pikmin..."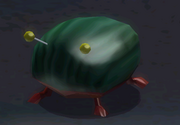 In
Pikmin 2
, Pikmin no longer attack Iridescent Flint Beetles automatically as they do in the original game. In all
Pikmin 2
Challenge Mode
levels they're in, these creatures rarely drop treasures. They are found in similar locations, but only drop three things: a 1-pellet (a dose of nectar if it's underground), 2 doses of nectar, and then a dose of
Ultra-spicy Spray
(three doses of nectar if the Ultra-spicy spray hasn't been discovered yet). Using
Purple Pikmin
, it is easier to fight them due to the shockwaves that the heavy purple Pikmin produce when thrown.
As a sidenote, it is possible to defeat these creatures while petrified, but they drop neither nectar nor spray and leave no corpse.
On the main menu of Pikmin 2, if you press Z (New Play Control!) a Iridescent Flint Beetle may appear that can be controlled with the C Stick (Gamecube) or the D-pad (New Play Control!). The beetle will be attacked when they get close to the Pikmin unlike the Red Bulborb where they flee.

In the
Pikmin 3
demo at E3, an Iridescent Flint Beetle could be found in
Challenge Mode
hiding amongst some Spotcaps.
[1]
 Unlike the rounded design from the two previous games, this updated version has more of a spread out, saucer-like, shinier body. Instead of stripes, it has four blotchy spots. It has visible eyes atop two stalks, as well as two horizontally-facing antennae. It has teal blotches scattered across its iridescent, green carapace. When hit, it drops nectar, and after being hit the third time, it scurries back underground.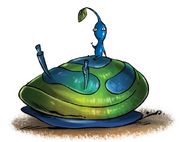 Even though the Iridescent Flint Beetle and its closer relatives (the Iridescent Glint Beetle and the Doodlebug) are in separate families (Flint Beetles, Glint beetles, Flint Bugs), they all belong to the Genus Pilli. In terms of zoological taxonomy, this is not possible, since lower taxa can not be distributed freely among higher taxa.
In Pikmin 3, the Iridescent Flint Beetle has 6 legs, making it the first anatomically-correct insectiod in the Pikmin franchise.
The scientific name Pilli envelopens may effectively translate to pill-bug envelope. With pilli for the common pill-bug and envelopens for envelope.
On the Pikmin 3 artwork, it is possible that it is a carcass, making it salvageable.