Gold Nuggets
Talk

1
935pages on
this wiki
---
The title of this article is conjectural. Although this article is based on canonical information, the actual name of this subject is pure conjecture. If an official name is discovered, please change the article's name to the appropriate title.
---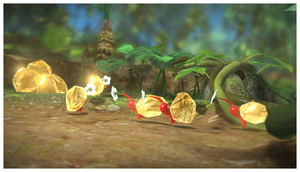 Gold nuggets are found only in Pikmin 3 and come in piles. There is a number displayed above the pile letting you know how many are left. Each one is also worth five Pokos, so, if you multiply the number by five, that will be how many pokos you get. For example, if there were 25 pieces left, then you would get 125 pokos from the remaining nuggets. As long as Pikmin are left alone while colecting nuggets, they will constantly march back and forth to the nugget pile until they are all collected.
If Pikmin are called back while in the process of carrying a nugget, the Pikmin will go back to following the leader and the nugget will disappear.
This article is a stub. You can help the Pikmin Wiki by expanding it.