The Gherkin Gate is a lid for a pickle jar that was made by the real-life company Pinnacle Foods, and is the lid for their popular Vlasic pickle brand.
On it, it reads from top to bottom:
BIG TASTE, BIG CRUNCH
vlasic
REFRIGERATE AFTER OPENING
DO NOT PURCHASE IF SAFETY BUTTON IS UP
This treasure is found on the mainland in the Perplexing Pool, and is found near the two Burgeoning Spiderworts. It is almost in the same place as the UV Lamp in Pikmin 1, and the tactic in getting it is just the same. Just swarm Yellow Pikmin against the wall (be sure to have 15 or more). Lead them up carefully through the maze, then throw them up onto the high ledge so they can retrieve it.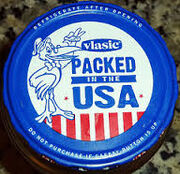 Ad blocker interference detected!
Wikia is a free-to-use site that makes money from advertising. We have a modified experience for viewers using ad blockers

Wikia is not accessible if you've made further modifications. Remove the custom ad blocker rule(s) and the page will load as expected.