Gate
Talk

44
938pages on
this wiki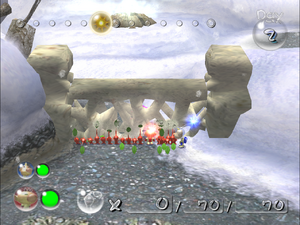 Gates
are found in a number of different forms in all three
Pikmin
games, where they require different strategies to overcome. They are the most common type of obstacle in the
Pikmin
games. Gates block paths to different areas and can be destroyed by swarming them with
Pikmin
. As time passes, the length of which depends on the number and type of Pikmin working on breaking down the gate and the type of gate, it will lower in three distinct stages, finally collapsing to the ground with the characteristic 'completion sound'. In
Pikmin 2
, gates collapse much faster than those in the original.
Variations
Edit
There are five major variations in gate structure: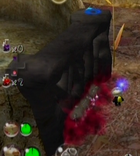 "Bramble" Gate
Edit
Bramble (not official name) gates are the most common type of gates seen in both Pikmin and Pikmin 2. They are made up of a lattice like pattern between two supports. They can be destroyed by any type of Pikmin unless hazards are located within or around it. Poison pipes may be found inside the gates, limiting the use of only white Pikmin. The gate may also be placed in a body of water, only allowing you to destroy it with blue Pikmin. These gates are tougher and take longer to destroy than White Gates. In Pikmin, they can be destroyed with four Bomb Rocks.
White gates (also known as White Bramble Gates) are simply a different colored version of the Bramble gate. They are the most basic type of gate seen in the Pikmin series, and take less time to destroy than Black gates. Two Bomb Rocks can be used to destroy a white gate in Pikmin.

Electric Gate
Edit
Electric gates consist of two towers with wire coils between them, with electricity flowing through. As such, they can only be destroyed by Yellow pikmin or bulbmin.
In Pikmin 3, the gates' appearance changes drastically. They resemble two Yellow boxes, with three flourescent light bulbs placed between them.
Stone Gate
Edit
Stone gates, found only in Pikmin 1, require the Yellow Pikmin, because only Bomb Rocks can destroy them. There are three color variations here: white stone gates, which require only three bomb-rocks, gray ones, which require six, and black stone gates, which require nine Bomb Rocks.

Dirt Wall
Edit
Dirt walls, exclusive to Pikmin 3, are built similarly to a sand castle. They can be broken down quickly and swiftly by any type of Pikmin. Unlike the gates of the previous two games, Pikmin are able to latch onto dirt walls. Consequently, Rock Pikmin simply bounce off of them. 

Glass Wall
Edit
Glass walls consist of a sheet of glass between two metal clamps. They are only found in Pikmin 3, and require Rock Pikmin to be thrown at them in order to shatter them.
Locations
Edit
This is a list of the locations of each type of gate (above ground only: underground numbers vary).
1 white gate
1 white stone gate
3 white gates
2 black gates
3 white stone gates
1 black stone gate
1 white gate
2 black gates
3 gray stone gates
2 black stone gates
2 white gates
1 black gate
1 grey stone gate
1 black stone gate
2 white gates
1 white stone gate
2 white gates
1 poison gate
1 black gate
2 poison white gates
2 electric gates
1 white gate
2 black gates
1 poison white gate
3 electric gates
1 white gate
2 poison black gates
1 electric gate
Gate strength
Edit
The strength of both colors of normal gate varies greatly through both Pikmin games, though those above ground tend in general to be much sturdier than the randomly generated ones in caves in Pikmin 2. The black gates in Pikmin take twice the amount of bomb rocks as the white gates, the black gates take about twice as long with the same amount of Pikmin as said Pikmin demolishing a white gate. An exception to this is the white gates that enclose the Emperor Bulblax arena at the Final Trial in the first Pikmin game, which are exceptionally frail for above-ground gates.
Minor Glitch
Edit
A visual glitch that occurs with certain gates allows them still to be visible underground when parts are submerged. Once the entire gate has been torn down, everything appears normal again. This is best seen underground in Pikmin 2, and in The Forest Navel in Pikmin. In the latter case, it is a simple black gate near a Fiery Blowhog and a Pellet Posy growing in the pool.