Burrowing Snarrow
Talk

36
936pages on
this wiki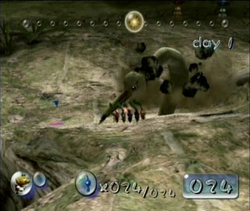 The Burrowing Snarrow is referred to only twice in the Pikmin series and is never seen in either. The first of these mentions is in the creature montage at the end of Pikmin 1:
The bluish hue of its feathers distinguishes it from the Burrowing Snarrow.
The second allusion to the creature is in Olimar's notes on the Burrowing Snagret in Pikmin 2's Piklopedia:
[...] Visually resembling the Burrowing Snagret is the Burrowing Snarrow, the range of which partially overlaps with the snagret's range. While the two may appear similar, when pulled from the ground they can be distinguished by the presence or absence of tail and wing markings.
Similar to how a snagret's head resembles the head of an egret bird, the Snarrow's head may resemble that of a Sparrow.
Although in the Pikmin 1 Beta trailer, there is a picture (not the highest of resolution) of what appears to be a Burrowing Snarrow. However, it could just be an early form of the Burrowing Snagret.