Burrowing Snarrow
Comments

0
712pages on
this wiki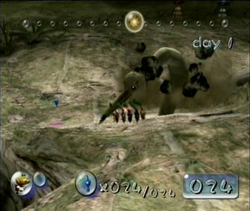 The Burrowing Snarrow is referred to only twice in the Pikmin series and is never seen in either. The first of these mentions is in the creature montage at the end of Pikmin:
The bluish hue of its feathers distinguishes it from the Burrowing Snarrow.
The second allusion to the creature is in Olimar's Notes on the Burrowing Snagret in Pikmin 2's Piklopedia:
[...] Visually resembling the Burrowing Snagret is the Burrowing Snarrow, the range of which partially overlaps with the snagret's range. While the two may appear similar, when pulled from the ground they can be distinguished by the presence or absence of tail and wing markings.
Similar to how a Snagret's head resembles the head of an egret bird, the Snarrow's head may resemble that of a Sparrow. However in the Japanese version of Pikmin 2 Olimar refers to the Snarrow as "Hebigamome" in his notes. Hebi = Snake                                                                                                                                                 Gamome = Seagull                                                                                                                                         The fact is that both Egret birds and Seagulls have long yellowish beaks and both have white feathers. Perhaps when translating to English, the name was changed to Snarrow for simply no reason. Why Olimar would even mention the existance of the Burrowing Snarrow is still a mystery.
But to go even further into the matter of the Japanese version of the game Olimar also refers to the Snagret as "Hebikarasu".                                                                                                                                                  Hebi = Snake                                                                                                                                                Karasu = Crow                                                                                                                                               Why would Olimar call it a crow snake? Well some variations of Egret can be black and BLUE! While the black and blue Egrets resemble Crows they are also most common near Hawaii and Japan! As for seagulls, almost all variations have white feathers. Therefore the Enemy seen in the picture above could very well be the elusive Burrowing Snarrow! but let's not get carried away...   
According to Olimar's Notes, this may mean the Burrowing Snarrow could fly, due to what he says in the last sentence. This could fit in with there existing the Pileated Snagret , which hops around, and the regular Burrowing Snagret, which stays in its place.
In the Pikmin Beta trailer, there is a screenshot (albeit not the highest of resolution) of what appears to be a Burrowing Snarrow emerging from the ground, ready to attackHowever, it could just be an early form of the Burrowing Snagret.